Misokatsu Yabaton

Famous Nagoya food : Misokatsu(pork cutlet with miso sauce) We feature a Deep-fried Pork cutlet(Pork Fillet, Pork Loin), as well as Deep-fried Seafoods,(Scallop, Black Tiger, Oyster), Deep-fried Vegetables,Rice Bowl Dishes and so on. We serve Deep-Fried dishes with "Red Soybean Miso Sauce" that is from Nagoya where the red soybean started. The red soybean is good for health and tasty. Please enjoy our Misokatsu.
Try our Red Miso sauce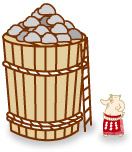 Our red miso (soybean paste) is natural mature in the cask that is placed stone as a pyramid on top for a several seasons. The style is a part of Japanese culture with long history. The miso become rich in flavor and sweet-smelling than the unnatural brewing. After that, we make our miso sauce by boiling it with pork and some materials for long hours. We have confident of what we serve to our customers, so please enjoy tasting the deep flavor of our miso sauce. We hope you will love our food and always be healthy.